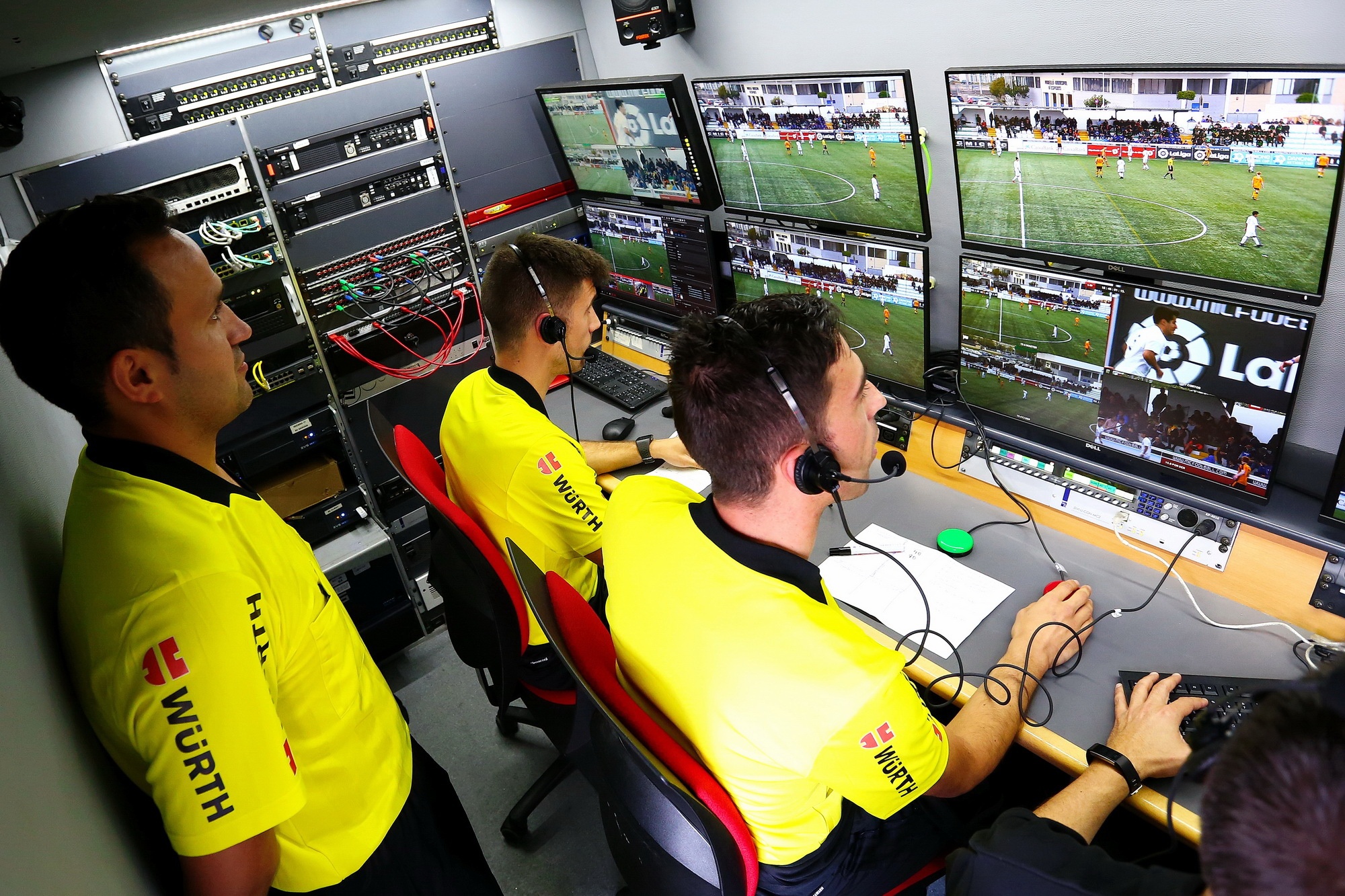 MIC – Mediterranean International Cup opens the VAR doors to the RFEF referees
VAR has been already put into practice in the youth football tournament MIC-Mediterranean International Cup as a database to introduce it in the silver category of LaLiga 1/2/3. MICFootball, which takes place from Wednesday 17th to Sunday 21st in Girona's regions, is the scenario for the referees to make their first practices within approximately twenty matches in U19 (A1) categories played in Lloret de Mar football pitch, one out of the 35 quarters of the competition. This is the first time in which referees from the Spanish second division take part in a formative football tournament.
This Friday, the media has attended to the VAR's functioning live demonstration during the match played by Real Madrid CF and Racing Barcelona U19 (A1), which took place in Lloret facilities. Carlos Velasco Carballo, president of the Comité Técnico de Árbitros de la Real Federación Española de Fútbol has declared, "The Referee Committee does another step to become more transparent. We are trying for CTA to be close to the fans, press, football and sport. We want to be a close and transparent organism to the society". The former referee has also added that "MIC has overtaken our expectations, it is an excellent tournament, greatly organized, besides, it is an ideal competition level for our functioning".
The Proyecto VAR en España director, Carlos Clos Gómez, has declared "the experience we are living in MIC is being extraordinary. Our referees are much delighted with it and we are leveraging it to grow. It is the best way to make progress in our formation."
Moreover, Juanjo Rovira, MICFootball's president, has affirmed "it is a great satisfaction to be able to host the referee committee at a national level and it, indeed is what mekes the tournament more prestigious. We would be delighted to repeat the experience every year if they considered it convenient. We are truly thankfulto referees for opening that much their doors and making this pedagogy". Following this, Jordi Sais, the Acción y Gobierno councilor in Lloret de Mar, has also accompanied the attendants.
This week is being intense for the referees due to their VAR training -these are the first live game practice hours-, which consists in field training, online and offline matches and two mobile unit simulators, special rooms known as VOR, located in Lloret's football pitch which are a UEFA Champions League habitual. In addition, aside from the ones in the football pitch, there is also a VAR simulator room in the hotel where they are hosted, as in Las Rozas. Furthermore, Lloret's football field is counting on 8 video cameras spread through the whole territory.
The referee expedition, gathered in Lloret from the 15th to 22nd of April, is shaped by eighty members: 22 second division referees, 43 assistant referees and finally, technical area's responsible.