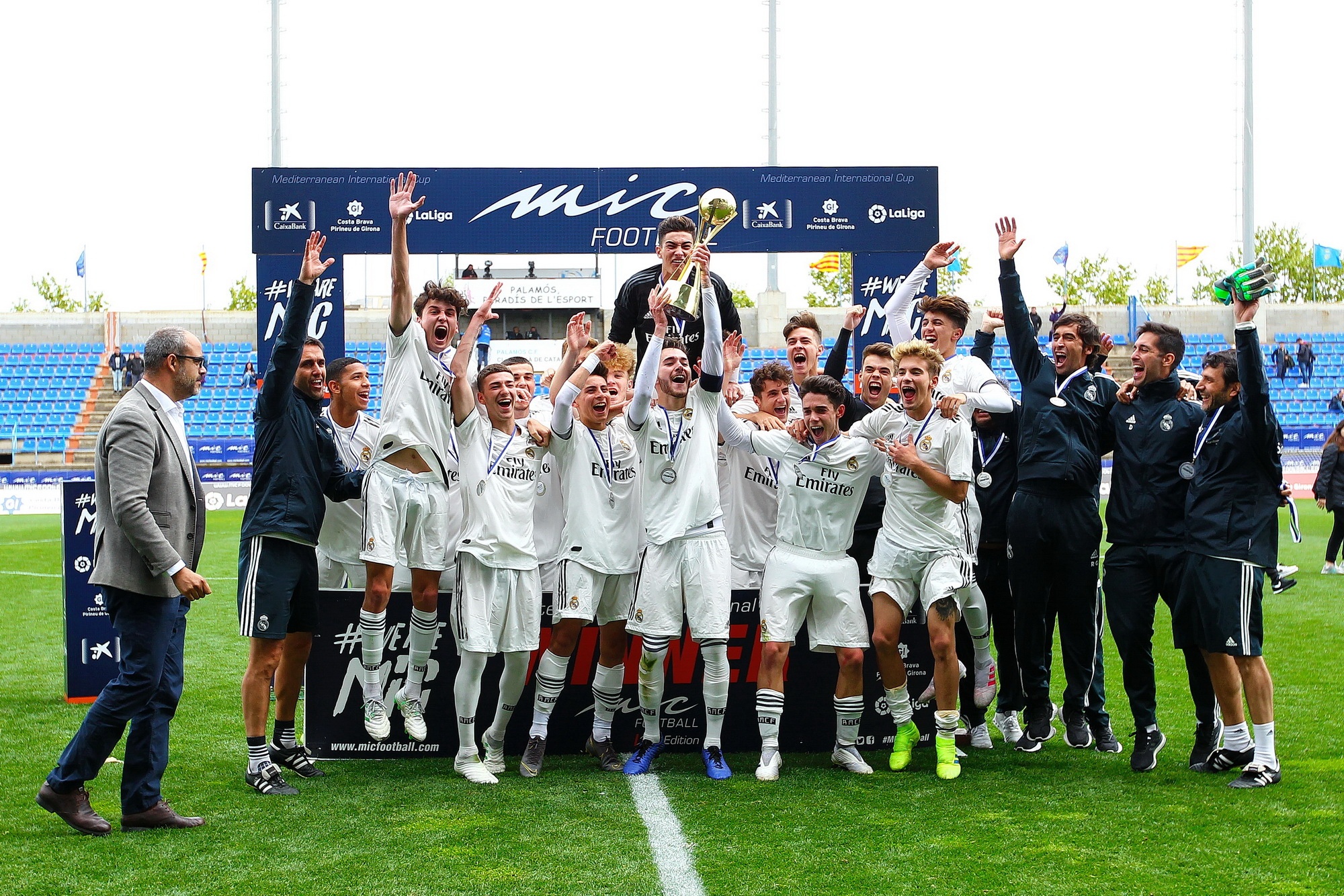 El Real Madrid CF, RCD Espanyol, FC Barcelona, IF Brommapojkarna & Liverpool FC reach the glory at MICFootball's clousure
The 19th edition of MIC-Mediterranean International cup, has ended this Sunday at midday with six finals that have taken place in Palamos and Figueres. The winners have been Real Madrid CF in U19 category, RCD Espanyol in U18 and in U14, FC Barcelona in U16, IF Brommapojkarna in U15 and Liverpool FC in U13. The day before, RCD Espanyol, crowned themselves as U12 kings and also in U19 femenine category. FC Barcelona had already won in U12 on Saturday.
Palamós Costa-Brava Stadium, has been fulfilled to its total of 4.000 seats, has hosted the victories of Real Madrid CF, RCD Espanyol and FC Barcelona. On the other hand, in Vilatenim Stadium, 15.000 have been watching the victories of IF Brommapojkarna and Liverpool FC. Roger Torrent, President of the Catalan Parliament, Miquel Buch, department of Interior's Council, Pere Vila, from the Girona Government delegation, Fermí Santamaría, Diputació de Girona's President and Lluís Puig, Palamós Mayor, are some of the attendences that stood up among others. In Vilatenim, Figueres mayor has also been present.
· CAT. A1 | U19 | Real Madrid CF 3-1 Club Atlético de Madrid
In the last final of the morning, Real Madrid CF has defeated Club Atlético de Madrid (3-1) in the category of U19. The derby has been dominated by the team coached by the former Madrid player, Raúl González. The scorers were Sergio Arribas, Carlos Dotor i Andri Lucas Gudjohnsen. Mario Soriano (Atlético de Madrid), form penalty has tied the match provisionally during the first half.
Real Madrid, winner of his National League group, has not lost a single match during the tournament. To get to the final, they have defeated UE Llagostera (1-0), winner of the past edition, FC Bulmaro from Nigeria (2-1) and Racing Barcelona (4-0). On the other hand, Atlético de Madrid got into the final having defeated FC Barcelona (2-0), and after a penalty round, FC Locomotive Tblisi (2-2) and Charrúa Fútbol Team (1-1)
• CAT. A2 | U18 | 0-5 RCD Espanyol
RCD Espanyol has defeated FC Cardadeu, who is one of the revelation teams in MIC – Mediterranean International Cup tournament, and has crowned himself as king of the category in a decisive match which ended in an overwhelming 5-0. The scorers in the winner team have been Kilian Cabrero, Aleix Gorjon, March Lachevre, Jordi Casta and Juan Julián Mahicas.The team first knocked out Unió Esportiva Figueres in semifinals (3-0), Juventus Academy Lloret during quarters (1-0) and FC Porto Dragon Force in 1/8 (4-1). On the other hand, Cardadeu, which has been close to achieve one of the greatest milestones of the tournament, defeated UE Llagostera in semifinals (1-1, 5-4 in penalty round), Italian Parma Calcio 1913 during quarters (2-1) and CF Palautordera in 1/8 (5-0).
· CAT. B1 | U16 | RCD Espanyol 0-0 FC Barcelona (2-3 penalty)
The hegemony of RCD Espanyol through the whole tournament has finally been broken by FC Barcelona, who's leader is Xavi Simons. It was an evenly-matched game which has not had a winner until the penalty round (0-0, 2-3). Juan David Fuentes, Txus Alba and Arnau have been the choosen ones to score the three penalties which has given the victory to Barcelona. FC Barcelona, coached by Carles Martínez, got into the final after defeating Gimnàstic de Tarragona in semifinals (2-0), Crystal Palace FC in quarters (2-1), CF Juventud Laguna in the 1/8 (5-0) and BR10 Sports in the 1/16 (5-1). On the other hand, Espanyol, coached by Pol Josep Garcia, has got into the final after defeating Real Betis Balompié in the semifinals (1-0), FC Shakhtar Donetsk during the quarters (1-0), l'Alboraya UD in 1/8 (2-1) and Kaptiva Sports FC from Barcelona in 1/16 (6-0)
• CAT. C1 | U14 | RCD Espanyol 1-0 Shakhtar Donetsk
RCD Espanyol has, once again, proved itself as one of the best youth academy in the football universe in the second final of the day, defeating FC Shakthar Donetsk thanks to Sergio Rivares's shoot (1-0). They have classified for the final after knocking off RC Celta in the semifinals (1-1, 4-3 in the penalty round), PSV in quarters (4-0), Nama Sports Club, from Barcelona, in 1/8 (1-0) and Queen City Munity, from North America, in 1/16. However, the Ukrainians have overcome l'Academia Luceafarul from Romania in the semifinals (4-0), CE Mercantil in quarters (1-0), New York Soccer Club, from USA during 1/8 (2-0) and FC Honka in 1/16 (1-0).
• CAT. C2 | U13 | IF Brommapojkarna 6-0 FC Nordsjælland
The Swedish team IF Brommapojkarna has won against FC Nordsjælland with an overwhelming 6-0. The goal scorers of the Scottish team have been Oscar Reinholdsson, with a hat-trick, Jardell Kanga, scoring two goals, and Fabian Andersson. They got into the final after knocking off Olimpique Lyonnais in the semifinals (0-4), Club Atlético Madrid during the quarters (2-1) and Unió Esportiva Quart during 1/8 (3-0). On the other hand, Nordsjælland, knocked out UE Llagostera in semifinals (1-1, 3-2 in the penalty round), Olympique de Marseille in the quarters (5-0) and Liverpool Football Club during 1/8 (2-2, 4-1 in the penalty round.
VAR, one of the novelties of MICFootball
The MIC–Mediterranean International Cup has been played in 35 venues, and among the novelties in the 19th edition, the most important one was the presence of the Video Assistance Referee (VAR) in the U19 category, whose games were played in Lloret de Mar and four finals this Sunday at Palamós. Moreover, there have been an increasing of TV broadcasting. The stats of this edition are similar than in 2018, with 900 games, 6.550 players and 364 teams, from 43 countries from 5 continents.
MICFootball, with the help of Diputació de Girona, Caixabank and LaLiga as main sponsors, and with its little brother MICBasketball, has moved more than 10.000 people among players, coaches, volunteers, parents and referees. According to the Estudi d'Impacte Econòmic del MIC – Mediterranean International Cup 2018 made by Patronat de Turisme Costa Brava Girona, the MIC 2018 generate a return of investment of 11,5M € in the region.