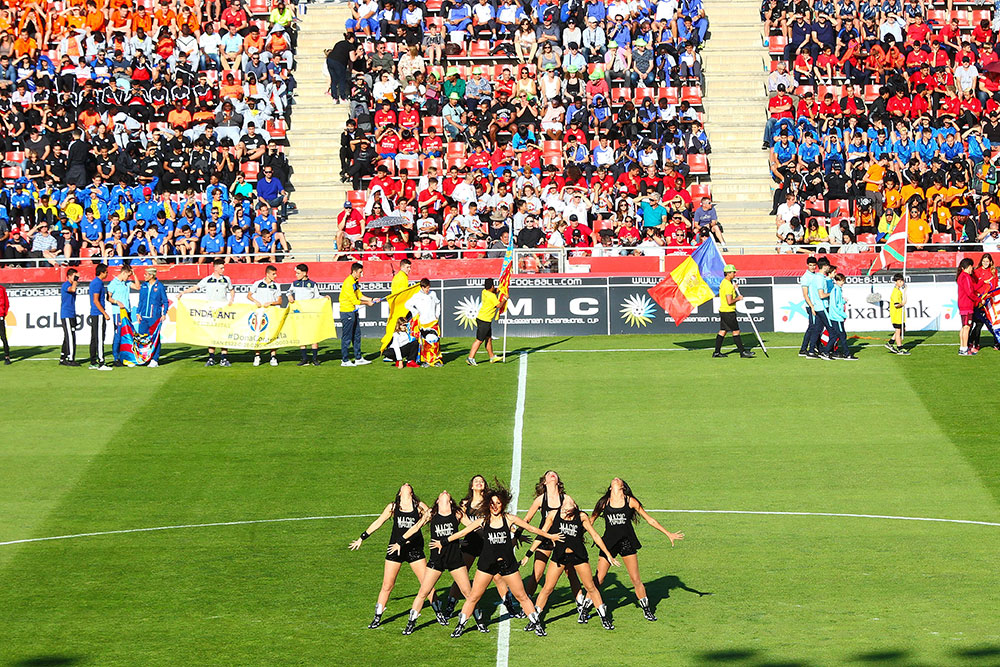 The teams will be the stars of the MICFootball's opening ceremony
MICFootball's opening ceremony is one of the most important moments of the tournament. The unity and friendship of all the teams show to the world the values which this tournament was born with, 18 years ago.
Vilatenim stadium in Figueres will host the starting shoot for the MIC-Mediterranean International Cup. A parade with all the teams represented will be the prelude for many more surprises and for the final act of the party: an A class game between Málaga CF – UE Llagostera which will start at 18:40 pm.
Tickets collection
The organization can guarantee a ticket for each inscribed member of all the teams. Those who would like to come without being registered with any team can pick-up free one free ticket in the stadium's ticket boxes, taking into account that the tickets are subjects to availability.
The teams accommodated by the organization will receive their tickets once they get into bus to go to the stadium. The departure times of the buses from the hotels towards Figueres can be found below:
Lloret, Platja d'Aro, Sant Antoni Calonge and Palamós: departure 15:30 pm
L'Estartit and Roses: departure 16:15
The teams who are not accommodated by the organization must request for the tickets in advance, talking to the organization members or writing to info@micfootball.com before Thursday, the 22th of March at 14:00 pm (CET). They will pick-up the requested tickets at the stadium's tickets boxes the same afternoon of the opening ceremony.
The parade
One of the highlights of the ceremony is the parade where all the teams will be represented. At 17:00 pm 2 members of each team wearing the official clothes of their team, and porting the team's and the country/region flag must go to the meeting point, located at the stadium annex in order to participate on the parade, which will begin at 18:00 pm.
Team's location
With the aim of speeding up the movements within the stadium, all the teams will seat in their designated areas, according to the class they are competing in. Information can be found below:
Tribuna: B2 (U15) and C1 (U14) classes
Gol Nord: C2 (U13) and D (U12 11-a-side)
Lateral: A (U19), B1 (U16), F (women U19-U16) and G (women U14-U12)
Gol Sud: E (U12 7-a-side)