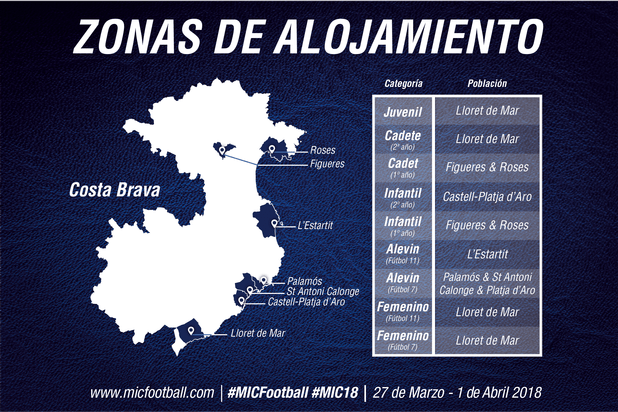 The accommodation areas for MICFootball 2018 unveiled!
The closer gets the date of the start of the tournament, more details are known about the 18th edition of the MICFootball. In just two months, thousands of young players coming from 5 continents will arrive to the Costa Brava to make us enjoy with their football and their illusion.
With tens of teams moving around the Girona province, there is a lot of organization work to do. In order to simplify the teams' movements during the tournament, they will be grouped in 5 big accommodation areas.
Hereunder, there is the information about the accommodation areas and the classes that will be hosted in each one:
– Lloret de Mar
U19 class (A)
U16 class (B1)
U19 – U16 women's class (F)
U14 – U12 women's class (G)
– Platja d'Aro
– Palamós / Sant Antoni de Calonge
*Some teams may be hosted at Platja d'Aro
-L'Estartit
– Roses / Figueres
U15 class (B2)
U13 class (C2)
On the following days, our managing team will inform all the teams about the hotels where they will rest during their participation in MICFootball.