The 20th edition of the international MICFootball (MIC-Mediterranean International Cup) tournament was presented today at CaixaBank's headquarter in Barcelona, as a result of the financial institution's historic sponsorship of the tournament for 10 years. The event was attended by Nico González and Aitana Bonmatí, FC Barcelona's football players. The tournament will be held from 12th to 17th April 2022 at Costa Brava and returns after three years with the attendance of 300 teams from about 30 countries and 6.000 participants spread out in 9 categories (from U12 to U20, among men's and women's grassroots football and functional diversity). The opening will be held in Figueres –main stage–, Palamós, Lloret i l'Estartit while Roses will be the novelty of the 33 headquarters in Girona that are a part of it.
MICFootball, recognized as one of the world's most prestigious grassroots football tournaments, has the two blue and scarlet players as godfathers.Nico Gonzalez, who took part in 5 editions of MICFootball with the FC Barcelona's grassroots football team, has remembered that "for me, MIC is really special because it was my first football tournament with Barça, when we had not yet signed. It was unique. It's a week that you look forward to and it's a special tournament that you enjoy with your friends, and which has a lot of follow-up". Regarding to the first team, the midfielder has pointed out that "we are very excited about the Europa League, winning my first title would be the most special thing that has happened to me in my sporting career. The league? We must believe in it, the dynamics we have are very good, but we don't want to fool anyone either, it's complicated".
Aitana Bonmatí, author yesterday of a goal in the historic FC Barcelona-Real Madrid CF Champions League match (5-2) with 91,553 spectators at the Camp Nou, has asserted that "it was a day hard to assume, I'm out of words, we have received many messages and I want to thank people for their support. When I was a child, I used to dream of playing at Camp Nou. I hope that what happened yesterday was a turning point and that it will go on. The second Champions? Let's dream, why not? The objective is to reach the final". The blue and scarlet midfielder didn't play MICFootball in her grassroots football stage, but "I was a loyal fan of the tournament and when I had finished training at the Ciutat Esportiva, I ran to Girona to watch the matches. Seeing how the boys and girls enjoyed it was great".
With LaLiga's clubs and Europe's leaders
MICFootball, organized by MICSports, adjourned 2020 and 2021 editions because of the pandemic and this year returns from 12th to 17th April. To avoid congestion at the stands, the tournament's inauguration (13th April) will be held simultaneously in four headquarters: Figueres –with Vilatenim's stadium as a main stage–, Palamós, Lloret de Mar and l'Estartit. The 9 finals will be divided, as the last time, between Figueres and Palamós, during the weekend. The rest of the tournament's headquarters are: Bàscara, Begur, Caldes de Malavella, Calonge, Cassà de la Selva, Castell Platja d'Aro, Castelló d'Empúries-Empuriabrava, Fornells de la Selva, Hostalric, l'Escala, la Bisbal d'Empordà, la Jonquera, Llançà, Monells, Mont-ras, Palafrugell, Pals, Quart, Roses, Sant Feliu de Guíxols, Sant Gregori, Sant Pere Pescador, Santa Coloma de Farners, Santa Cristina d'Aro, Sils, Torroella de Montgrí, Tossa de Mar, Vidreres i Vilablareix.
It will be attended by 300 teams from about 30 countries and nearly 6,000 participants, including players and members of the coaching staff. There will be representatives from the United States, Japan, Brazil, Mexico, Chile, Perú, Colombia, Puerto Rico, and South Korea, and, from Europe, from countries such as Italy, Portugal, France, United Kingdom, Sweden, Romania, Israel, and Spain. Players from 12 to 20 years old will take part, divided into 9 categories, from U12 to U20. MICIntegra, aimed at people with functional diversity and supported by l'Obra Social "la Caixa", will be played for the eighth time, on April 15 in Vidreres.
Among the confirmed teams, there are 11 out of the 20 LaLiga's clubs (FC Barcelona, Real Madrid CF, RCD Espanyol, Club Atlético de Madrid, Valencia CF, Villarreal CF, Real Betis Balompié, Sevilla FC, Real Sociedad de Fútbol, Athletic Club de Bilbao and RC Celta), and other European leaders, such as Manchester United FC, Liverpool FC and Paris Saint-Germain FC, among others. Television and streaming broadcasts will also be present in this edition and a large part of the tournament can be watched from anywhere in the world.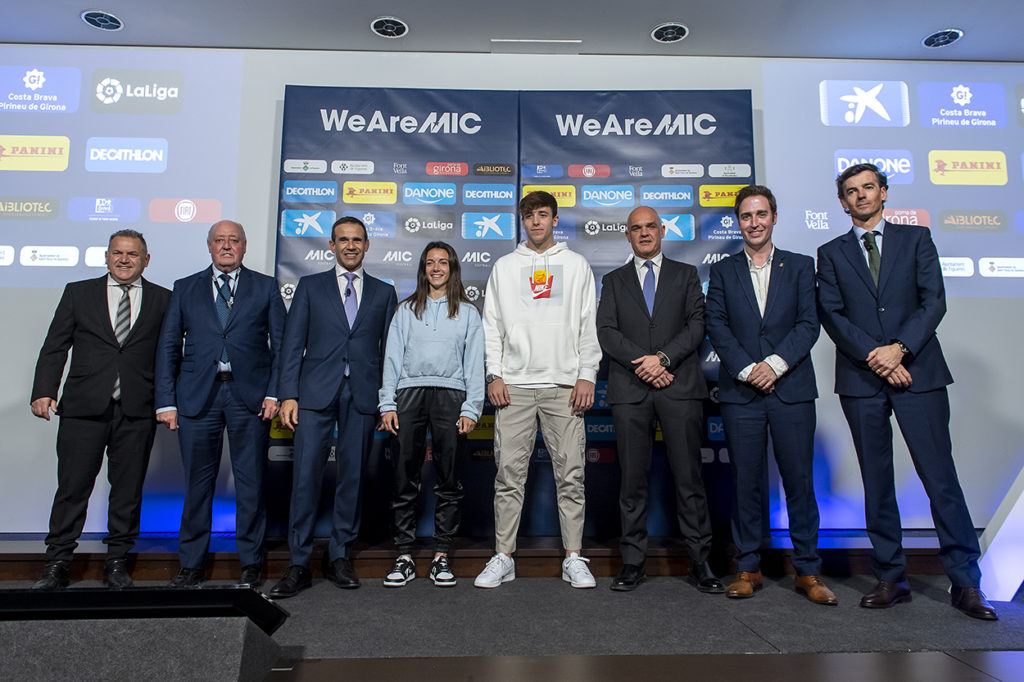 "The best MIC in history"
The event began with a welcome speech by Alfredo Bustillo, CaixaBank's Director of Sponsorship. In his speech, he highlighted the role of the organization as "one of the pioneering companies in sports sponsorship with more than 30 years of experience". He also emphasized the involvement with the tournament, stating that the relationship "goes far beyond the historical sponsorship of the championship, with which we have been linked for 10 years and which helps us to continue in the strategy of promoting the sport as an inclusive tool for society and that helps sports and cultural organizations and institutions to develop projects that can help social and economic progress, in line with the values of the entity".
This afternoon's presentation also featured speeches by Jordi Masquef, diputat d'Esports de la Diputació de Girona; Juanjo Rovira, MICFootball's director, and Jaume Masana, CaixaBank's territorial director in Catalonia. Sports journalist Gerard Romero led the event. 
Juanjo Rovira explains that "we come back with the utmost enthusiasm, desire and strength. We haven't been able to do it for two years and after all that has happened, we will have 300 teams from 30 countries, a figure we would have accepted without a second thought three months ago. We will adapt to the current situation to get as close as possible to what the tournament was before the pandemic". Rovira, who thanked the support of institutions, administrations, sponsors, and collaborators, emphasizes that "we are looking forward to seeing how big and small teams live together and discover football promises. We are ready to celebrate, as always, the best MIC in history".
Jordi Masquef underlined that "we all really want MIC after two years without being able to celebrate it due to the pandemic. This year, a total of 33 Girona municipalities will be the scene of the tournament, which is an excellent platform for the international projection of these municipalities and, at the same time, allows us to further promote our territory as a sports tourism destination".
Jaume Masana accentuated CaixaBank's commitment to the territory, in this case in the Girona region, in an event such as MICFootball. In addition, Masana thanked the work of CaixaBank volunteers: "We are very proud of their contribution to the tournament by actively collaborating with the organization, accompanying the participants, supporting them and giving everything operational support".
Elite footballers, an impact of 11.5 MEUR and future journalists with the Dani Montesinos Award
MICFootball has proven to be a real cradle of footballers in the 19 editions that have been played. A wide range of elite players has played it, like Leo Messi, Neymar, Ansu Fati, Carvajal, Casemiro, Marcus Rashford, Joao Felix, Mohamed Salah, Pedri, Dani Olmo, Theo Hernandez, Brahim Diaz, Eric Garcia, Gavi, Nico González, Coutinho, Pau Torres, Sergio Reguilón, Pablo Fornals, Piqué, Marcelo and Juan Mata, among others.
The tournament, which this year again has the Girona Provincial Council and CaixaBank as its main partners, mobilizes 400 volunteers and improves the position of the Costa Brava as a destination for sports tourism and projects it internationally. According to the MIC – Mediterranean International Cup 2018 Economic Impact Study commissioned by the Costa Brava Girona Tourism Board, the 2018 MICFootball generated a return in the territory of more than 11.5 million euros with a budget of 2,8 MEUR. For every euro invested by the public administration, there was a return to the territory of more than 100 euros. 
The values that MICFootball tries to convey are also reflected in the Dani Montesinos Sports Journalism Award, with the aim of remembering the figure of the journalist and with the objective of promoting sports journalism and young journalists. The award, promoted by MICSports in collaboration with Mediapro, will recognize for the 10th year a work written by a journalism student, who will at the same time obtain an internship on the GOL Channel.